Concrete Stamps
We are often asked where to buy stamps or how to get started.
There are 9 major manufacturers of concrete stamps (in the U.S.) in today's modern times. We have listed all of them in alphabetical order.
Click here to see the complete list.
Concrete Stamps
---
Contractors
Find contractors in your area. We are proud and honored to serve as your connection to the stamped concrete industry by providing helpful advice, design and idea tools, and direct correspondence to stamped concrete contractors throughout America (coming soon).
Find Concrete Contractors
Gallery
See stamped concrete pictures of patios, pool decks, driveways, sidewalks and more.
See Photos and Images
Services
Information regarding stamped concrete contractors, manufacturers and suppliers. Discover photos and designs for patios, sidewalks, driveways and pool decks, as well as information on sealers, colors, patterns and more.
Read More
---
What Is Stamped Concrete?
Stamped Concrete is an exciting and beautiful concrete process whereby freshly poured concrete is imprinted with any one of numerous and diverse patterns that resemble in an almost indistinguishable fashion, that of authentic paving surfaces commonly found naturally, such as slate, brick, cobblestone, tile and wood. At a (usually) lower cost or price point than what is found in nature or that of pavers, stamped concrete can beautify any residential, commercial or municipal property adding brand new value and function. Combining the strength and durability of concrete with the aesthetic of natural paving, stamped concrete can be an investment in elegance when installing patios, sidewalks, pool decks, driveways, plazas and more.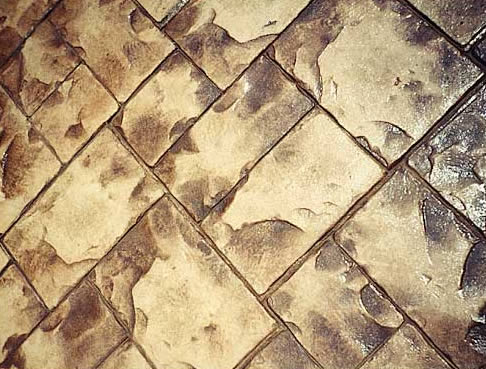 (Close up picture of a tan and brown ashlar slate pattern.)