What Is Stamped Concrete?
Stamped Concrete is an exciting and beautiful concrete process whereby freshly poured concrete is imprinted with any one of numerous and diverse patterns that resemble in an almost indistinguishable fashion, that of authentic paving surfaces commonly found naturally, such as slate, brick, cobblestone, tile and wood. At a typically lower cost and price point than pavers, stamped concrete can beautify any residential, commercial or municipal property adding brand new value and function. Combining the strength and durability of concrete with the aesthetic of natural paving, stamped concrete can be an investment in elegance when installing patios, sidewalks, pool decks, driveways, plazas, steps, walk ways, interior floors and more.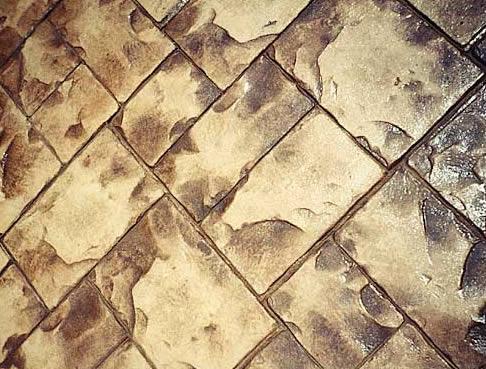 (Close up picture of a tan and brown ashlar slate pattern.)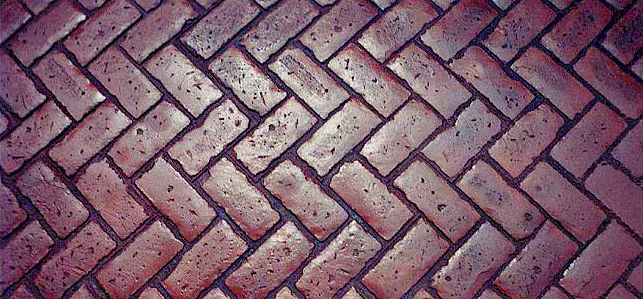 (Close up picture of stamped concrete brick.)
---
Contractors
Find contractors in your area. We are proud and honored to serve as your connection to the stamped concrete industry by providing helpful advice, design and idea tools, and a directory of stamped concrete contractors throughout America (Coming Soon).
---
Click Here to Add Your Company
Alabama
Davis Concrete Stamping and Staining
Southside, AL
Arkansas
LS Decorative Stamped Concrete
Springdale, AR
---
Colorado
Colorado Hardscapes
Denver, CO
"What is Imprinted Concrete? Imprinted concrete stamps a pattern or texture into the concrete surface and is created using two colors to give it a depth: a color hardener (base color) and a release agent (highlight color)." (Quoted from Business)
See More Contractors In Colorado!
FRSR
Broomfield, CO
"High quality material is used to construct patios to withstand the diverse Colorado climate conditions. Compacted Roadbase, 4000 PSI concrete mixture, revolutionary fiber mesh and steel structures are used to lay a solid foundation. UV-resistant, mineral based color hardeners and release agents will make your patio solid and tough. We ensure that the beautiful creation lasts for years. Not only that but FRSR also offers plans and offers in your budget itself, making sure everything is reasonable and affordable for our customers. We will construct a new hardscape specifically designed to fit your budget. Prices starting as low as $11.50 per square foot, stamped concrete at FRSR is indeed affordable elegance!" (Quoted from Business)
See More Contractors In Colorado!
Jose's Landscaping and Patio
Erie, CO
2,323 likes
"With the many design choices and color options, the versatility of stamped concrete as well as its durability, is unbeatable. A flagstone slate patio is arguably one of the most aesthetically appealing kinds of patios one can have. With slate or flagstones natural look, it's difficult to beat its beauty." (Quoted from Business)
See More Contractors In Colorado!
---
Connecticut
PGS Concrete Designs
Stafford Springs, CT
Delaware
Delaware Concrete Specialists
Newark, DE
Florida
Broward Concrete
Sunrise, FL
Hawaii
Nohealani Masonry Contractor
Honolulu, HI
Idaho
Modern Concrete
Boise, ID
Iowa
Concrete Impressions
Des Moines, IA
Kansas
B&B Builders
Wichita, KS
Kentucky
Creative Concrete
Owensboro, KY
Louisiana
Falcon Concrete Service
Slidell, LA
Maine
Marquis Decorative Concrete
York, ME
Minnesota
Minnesota Valley Concrete
Carver, MN
Mississippi
Coastal Concrete Design
Gulfport, MS
Montana
NW Concreteworks
Kalispell, MT
Nebraska
Schroder Concrete
Omaha, NE
Nevada
Sierra Design Concrete
Sparks, NV
New Hampshire
Northeast Decorative Concrete
Nashua, NH
New Mexico
Crete Solutions
Albuquerque, NM
North Dakota
Myhre Concrete Design
Bismarck, ND
Oklahoma
Advanced Concrete Designs
Oklahoma City, OK
Oregon
Allison Concrete
Portland, OR
Rhode Island
Modern Concrete
Providence, RI
South Carolina
Hiebert Concrete
Beech Island, SC
South Dakota
Rivers Edge Decorative Concrete
Brandon, SD
Utah
Speakman's Concrete
Tooele, UT
Vermont
Vermont Hardscapes
Weathersfield, VT
Washington
Linder Concrete
Lake Stevens, WA
West Virginia
Greenwalt's Affordable Concrete
Martinsburg, WV
Wyoming
All Things Concrete
Casper, WY
---
Gallery
See stamped concrete pictures of patios, pool decks, driveways, sidewalks and more.
See Photos and Images
---
Concrete Stamps
We are often asked where to buy stamps or how to get started.
There are 9 major manufacturers of concrete stamps (in the U.S.) in today's modern times. We have listed all of them in alphabetical order.
Click here to see the complete list.
Concrete Stamps
---
Services
Information regarding stamped concrete contractors, manufacturers and suppliers. Discover photos and designs for patios, sidewalks, driveways and pool decks, as well as information on sealers, colors, patterns and more.
Read More